---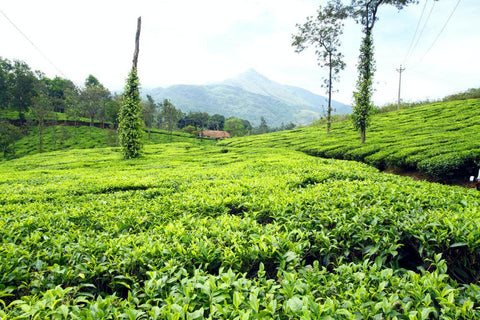 In the northeast corner of the Indian state of Kerala, high in the Western Ghats, you will find the district of Wayanad, from which we source our spices.
Archaeological records show that Kerala has been renowned as one of the world's best sources of premium spices for at least three millennia. In ancient times, traders from China, Rome, Greece, Venice, and the Middle East sailed to Kerala in search of black pepper, which is native to this region, cardamom, the world's third most expensive spice, turmeric, cinnamon, and ginger.
On a map, Kerala is a narrow strip of land on the southwestern coast of India running from the southern tip of India in the south to Kunjathur in the north. It is bordered by the Arabian Sea to the west and the Western Ghats, a mountain range that runs up the western coast of the subcontinent, to the east. These geological features give Kerala a dramatic geography, with sweltering lowlands in the west rising to cool, wet highlands in the east. The wet, flat lowlands support rice cultivation, while the higher altitudes in the east are more conducive to growing tea and coffee.
The district that we source from, Wayanad, has the high altitude and cool climate characteristic of the eastern half of Kerala. As such, though rice and coconut are grown in isolated valleys and areas with lower elevations, the majority of crops in the area are those suited to a drier, cooler climate. Wayanad's largest crops are coffee, tea, pepper, cardamom, and rubber.
Though agriculture has been present in Wayanad for perhaps thousands of years, large scale farming began with the British construction of roads that reached into the interior of the district in the late 1890s. These roads opened up access to formerly inaccessible mountain slopes with fertile soils well suited for crops. As a result, people began to establish plantations to cultivate tea and other cash crops and eventually to embrace farming methods involving the use of chemical pesticides.
In 2001, a concerned groups of citizens noticed that the use of these chemical pesticides was linked to various human and environmental health issues in the region. These citizens decided to take action to combat the pervasive use of chemical pesticides and in 2003 they founded Organic Wayanad, an organization that educates farmers about organic farming practices, works with them to get their farms certified as organic by accredited certification agencies, and supports the organic farmers in the region. To date, Organic Wayanad has held more than 700 training workshops for local farmers and has helped get more than 1800 acres of farmland certified as organic throughout the district.
Our spices are sourced from these certified organic farms. Our farmers eliminate harmful chemical pesticides while simultaneously reclaiming their traditional agricultural practices, which helps conserve water, seeds, and soil and supports the health of the ecosystem and local human communities alike.