---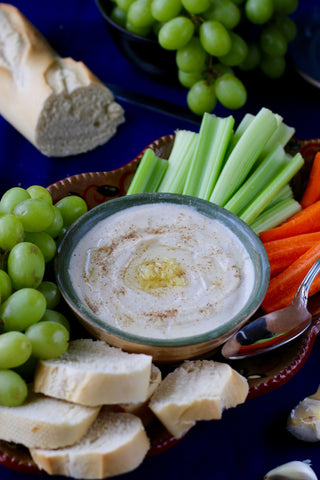 Ajo blanco is a traditional cold Spanish soup whose origins date back to the 8th century. Literally translated "ajo blanco" means "white garlic," which gives you an idea of the soup's main flavor component. Raw garlic, combined with sherry vinegar, is used to give this creamy soup an unusual kick.
Our recipe puts a modern twist on the traditional recipe: we reduce the amount of water usually added, turning the soup into a creamy and delicious dip you can serve with carrots, celery, fresh bread, or green grapes (the traditional garnish for ajo blanco).
We also add 1/8 teaspoon of our organic ground white pepper to add dimension and an extra level of heat to the dish.
The subtle difference between the type of heat found in raw garlic and that in peppercorns prevents the combination of these two spicy compounds from overwhelming the taste buds.
Ingredients


3 oz crustless white or wheat bakery bread, torn into small pieces
1 cup plus 2 tbsp ground blanched almonds (almond flour)
1 tbsp plus 1 tsp sherry vinegar
½ fresh garlic clove
¼ cup light extra virgin olive oil
salt, to taste
1/8 tsp Spice Monger™ organic ground white pepper
1 cup water
Instructions
Add all ingredients except salt to a food processor, then process until blended and homogenous. Add salt, and, if the dip is not spicy enough for your tastes, more raw garlic to taste. Process again. The mixture should be thicker than a soup, but still loose enough to dip vegetables and fruit into. If desired, garnish with minced garlic, a drizzle of olive oil, and a sprinkle of Spice Monger™ organic ground white pepper. Serve immediately or store, covered, in the refrigerator.