---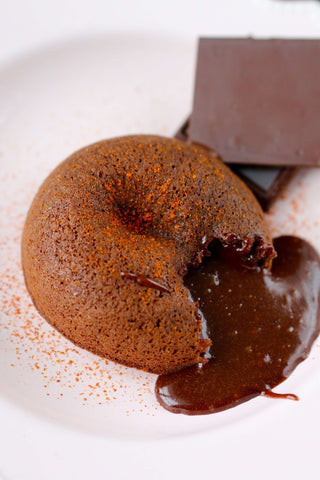 Rich, warm, and oozing with melted chocolate, molten lava cake is one of the most indulgent desserts you can make this Valentine's Day. Don't let all that liquid chocolate action scare you, though: these little gems are surprisingly easy to make. In fact, you can make this whole recipe using only one bowl! Less dishes to do leaves more time for post-dinner romance. Win.
In addition, these particular lava cakes pack a special punch: a little chili powder added to the batter gives these cakes a subtle heat, the kind that leaves your tongue tingling and your partner saying, "I've never had a cake like this before."

You'll start out by melting chocolate and butter together to form a smooth, fragrant base for the cake. Then you'll add in a little espresso powder to intensify the chocolate flavor, salt and sugar, an egg and an egg yolk. The egg yolks are what give the cakes' liquid centers that thick, "molten" gooiness. Next you'll add some flour to give the cakes structure and the secret ingredient that makes these cakes so unique: Spice Monger™ chili powder. Then pour the mixture into two small ramekins. No ramekins? No problem. You can use two oven-safe mugs. Then just bake and enjoy your deceptively fancy lava cakes.
Ingredients (makes 2 individual-sized lava cakes)
½ cup confectioner's sugar (also known as powdered sugar or icing sugar)
1/8 tsp salt
3 tbsp all-purpose flour
2 oz semi-sweet baking chocolate
¼ cup (4 tbsp) unsalted butter
1 egg and 1 egg yolk, room temperature
1/4 tsp espresso powder
6 pinches (about 1/8 tsp) Spice Monger™ chili powder
Instructions
Preheat your oven to 425˚F. Spray two oven-safe mugs or 4oz ramekins with flour-based baking spray (like Baker's Joy) and place them on a baking sheet.
Melt the chocolate and butter in a double boiler. If you don't have a double boiler you can place a heat-safe bowl over a pot filled with about an inch of simmering water. As soon as the chocolate-butter mixture is completely liquid remove the bowl from the heat and transfer to the counter. Add the salt, espresso powder, and confectioner's sugar and whisk until smooth. Test with your finger to make sure the mixture isn't hot enough to cook the eggs: at this point it should be warm, not hot. Once you've checked on the temperature, whisk in the egg and egg yolk until the mixture is smooth once again, then whisk in the flour. Finally, whisk in the chili powder. At this point you can taste test the batter and add another pinch or two of chili powder if you'd prefer the cakes to be spicier. Be careful not to add too much, however: you want the cakes to impart a warm tingle, not make your eyes water.
Pour half of the batter into each mug or ramekin. Put the baking sheet with the mugs or ramekins on it on a rack in the middle of the oven and bake for 12 minutes or until the tops of the cakes look just cooked with the centers slightly underdone. Let the cakes cool for 1-2 minutes, then carefully invert them onto plates. If the cakes aren't coming out use a paring knife to cut around the edges until the cake releases from the ramekin. Serve immediately, dusted with Spice Monger™ chili powder or confectioner's sugar, topped with ice cream or whipped cream and hot fudge sauce, left plain, or, if you're feeling really spicy, topped with mini chili peppers.